Diversity Matters
With a thematic axis focused on Diversity – encompassing gender issues,
culture and ethnicity, the Ponte Nórdica 2018 at CAIXA Cultural of Rio de Janeiro will exhibit 15 films and two short films by directors from Denmark, Sweden, Norway, Iceland and Finland including unpublished films in Brazil and the vast majority of winning films from major Nordic festivals and festivals in Europe.
"With culture as a starting point, the exchange of experiences and ideas, culminate in strengthened and long-lasting cultural relations" explains Maibrit Thomsen, director of the DCI in Brazil.
Movies screened at Ponte Nórdica 2018
SAMI BLOOD
Dir.: Amanda Kernell
Sweden, 2016
Elle Marja, 14, is a reindeer-breeding Sámi girl. Exposed to the racism of the 1930's and race biology examinations at her boarding school, she starts dreaming of another life. To achieve this other life, she has to become someone else and break all ties with her family and culture.
TOM OF FINLAND
Dir.: Dome Karukoski
Finland, 2017
Touko Laaksonen, a decorated officer, returns home after a harrowing and heroic experience serving his country in World War II, but life in Finland during peacetime proves equally distressing. He finds peace-time Helsinki rampant with persecution of the homosexual men around him, even being pressured to marry women and have children. Touko finds refuge in his liberating art, specializing in homoerotic drawings of muscular men, free of inhibitions. His work – made famous by his signature 'Tom of Finland' – became the emblem of a generation of men and fanned the flames of a gay revolution.
THE CHARMER
Dir.: Milad Alami
Denmark, 2017
"The Charmer" is an intense psychological drama about Esmail, a young Iranian man who is desperately looking to meet women who can secure his stay in Denmark. As time is running out he falls in love and his past catches up with him.
EX-WIFE
Dir.: Katja Wik
Sweden, 2017
Klara is newly in love and all she wants is to be close to Jacob. Anna times her husband with a stopwatch when he gets their baby's bottle ready. Vera can't let go of her former husband. With humour and seriousness The Ex-Wife tells the story of three relation – ships, where the Girlfriend, the Wife, and the Ex-wife all come together in a revealing satire of the arc of relationships – from falling in love to divorce.
HOBBYHORSE REVOLUTION
Dir.: Selma Vilhunen
Finland, 2017
A funny and moving film about teenagers with growing pains, who discover their own voice and talent through riding and grooming toy horses.
A HORRIBLE WOMAN
Dir.: Christian Tafdrup
Denmark, 2017
When Rasmus meets Marie, he is certain that she is the love of his life. However, it doesn't take long before it turns out she is a possessive and manipulative being, that cunningly dissects Rasmus to pieces.
TEAM HURRICANE
Dir.: Annika Berg
Denmark, 2017
A punk chick flick that mixes documentary material with highly stylized fiction. Over the course of one Danish summer, eight teenage girls comes to realise that they need each other in order to ride out the storm of hurricane season that is adolescence.
PARENTS
Dir.: Christian Tafdrup
Denmark, 2016
When their son, Esben, moves out, Kjeld and Vibeke decide to relocate to a smaller home. They discover that the apartment they lived in back when they were students is up for sale and agree to buy it and make a new start. Kjeld furnishes the apartment the way it was furnished back then, and for a while the two relive their sweet days of youth. But events take a turn neither of them had expected when they wake up one morning and find that they are actually thirty years younger.
VENUS – LET'S TALK ABOUT SEX
Dir.: Lea Glob, Mette Carla Albrechtsen
Denmark, 2016
Two female directors in their thirties, start an investigation based on their own sexual frustrations to understand desire from a female point of view. As an excuse to get more answers, they decide to make a film based on real women's erotic memories and reflections. They send out a casting call and over 100 ordinary Copenhagen women reply. As the shootings progress it dawns on the Filmmakers that what was just meant to be a casting, instead becomes an overwhelming shared experience of intimacy. The casting couch is turned into an exploration space for the young women to share their true desires, fantasies and reflections on their experiences with sex, shame, lust and pleasure. The film gives a rare look into the secret language of young female sexuality.
Girls Lost
Dir.: Alexandra-Therese Keining
Sweden, 2015
Three young girls' friendship is tested after they plant a very special flower; the Nectar from the flower changes their lives- and friendship – forever, as they get a taste of what it's like growing up as a boy. It's a story of how we've created gender, and how to know who you are when society is telling you who you should be, but also a story about young love and lust.
KITCHEN SINK REVOLUTION
Dir.: Halla Kristín Einarsdóttir
Iceland, 2015
At the beginning of the eighties Icelandic women were fed up. They founded the political Women's Alliances and changed the face of Icelandic politics forever.
SUMÉ – The Sound of a Revolution
Dir.: Inuk Silis Høegh
Greenland, 2014
A successful rock band from Greenland? Yes, it's not a lie. In 1973, the Greenlandic Sumé released a debut album, which record time made it to all the households on the icy island. But Sumé's success was not just due to their catchy beat rock, but also to the band's ability to put words to the zeitgeist, where Greenlandic culture was slowly fading away.
LONG STORY SHORT
Dir.: May el-Toukhy
Denmark, 2015
Long Story Short is the story of Ellen and her friends, all in their late thirties/early forties, and their more or less self-inflicted complications of love and longing for romantic redemption. The story is a summary of three years of love-related highs and lows for the group of friends told through eight chapters, each of them set at a party: a New Year's Eve, a house warming, a Midsummer's Eve, a wedding, a surprise party, a naming ceremony, an anniversary and a round birthday. It is an ensemble story about a group of people who struggle with the conception of the perfect relationship and are bound to re-evaluate their take on what true love is.
BROTHERS
Dir.: Aslaug Holm
Norway, 2015
Aslaug Holm follows closely her two young sons Markus and Lukas in their everyday life, while being sons, close brothers, as well as being kids having pleasures and disappointments.
MARTHA & NIKI
Dir.: Tora Mkandawire Mårtens
Sweden, 2015
Martha Nabwire and Niki Tsappos took part in the biggest international Street Dance Competition, Juste Debout in Paris. It was the first time ever two women became World Champions in Hip Hop.
MINI
Dir.: Milad Alami
Denmark, 2014
Simon lives with his mother in northern Sweden. She is a body builder and is training hard ahead of her next contest. Simon sacrifices everything to help her, but realizes that her body can't hold out much longer. Simon finds himself in an untenable position and has to make a very difficult decision. Leave his mother, knowing that she can't cope by herself, or give up his own dreams and stay.
MOMMY
Dir.: Milad Alami
Denmark, 2015
A teenage girl is partying at home with her friends in the presence of her young daughter. As the party takes off and the others want to go to the city, the mother struggles to put her daughter to bed so she can join them.
Time and place
Event: Ponte Nórdica 2018
Location: CAIXA Cultural Rio de Janeiro
Date: May 1 to 13
Schedule: Coming soon
Admission: R $ 4 and R $ 2
Rating: 14 years old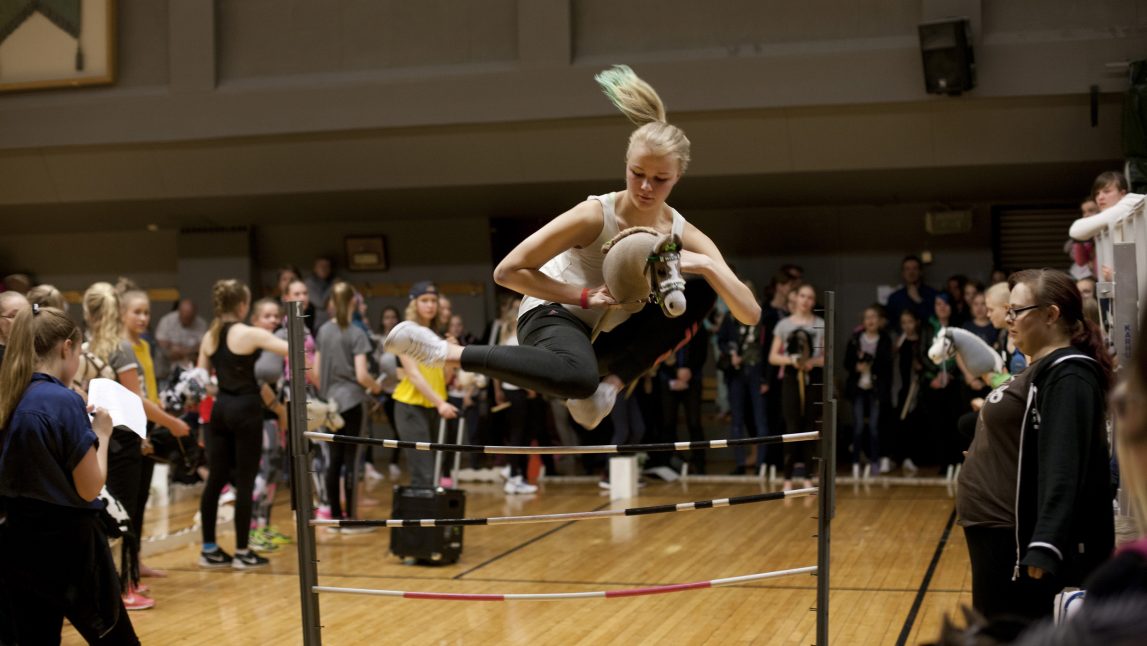 Filme: HobbyHorse Revolution